Barlinek la Târgul Bau 2017
Un record de peste 250 de mii de vizitatorii au vizitat Târgul Mondial de Arhitectură, Materialelor şi Sistemelor de Construcţie BAU care a avut loc între 16 şi 21 ianuarie în Munchen. Potrivit motto-ului "Create and be with us!" la cel mai mare eveniment de acest gen din lume nu putea lipsi Barlinek.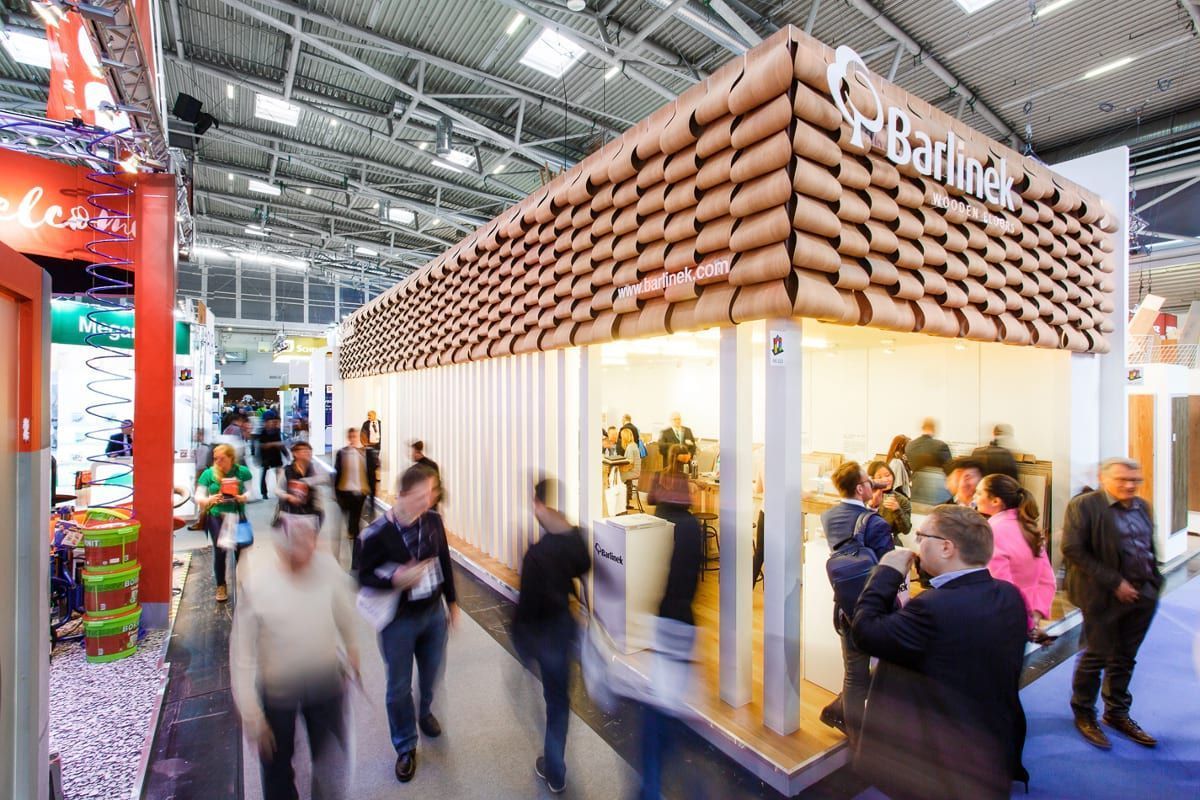 Conform motto-ului nostru principal "Create and be with us!" am dorit să prezentăm, că lemnul ca materialul formează nu numai interiorul, dar și stilul și modul de viaţă. În acest spirit, a fost creat şi conceptul standului nostru de către autorul Simon Hanczara, care a avut ca scop prezentarea lemnului în cea mai pură forma. Naturalețea și frumusețea sa, care sunt reflectate în produsele noastre.
Standul neobișnuit cu două nivele a stârnit un interes deosebit printre vizitatori. Atrăgea privirile de la depărtare datorită brandului recunoscut Barlinek, dar și datorită coroanei interesante, care nu numai că acoperea etajul, dar iesea în evidenţă coparativ cu celelalte standuri.
Construcția standului a corespuns cu oferta parchetului Barlinek, pe care am prezentat-o deci colecțiile Senses, Tastes of Life sau Jean Marc Artisan. Senses este o combinaţie creativă a trei puternice tendinţe de design modern: de mari dimensiuni, coloristică cuminte si naturaleţea lemnului adevărat. Parchetul "Senses" are o lățime peste standard (207 mm), cu marginile clar exprimate, colorație subtilă în culorile pământului și structura naturală a lemnului este vizibilă. Colecția designer Tastes of Life, a fost creată în colaborare cu architecți interiori – finaliști I ediții a concursului "Creații din Natură" organizat de către Barlinek Insitute of Design și revista "Design Alive". Este o colecție de parchet colorat pentru oameni cu pasiune, care apreciază stilul și frumusețea, care doresc intensiv să guste din viață. Unic şi manual antichizat, parchetul din stejar marca "Jean Marc Artisan" este un parchet cu suflet, pentru cei mai exigenți clienti. Colecția aceasta se referă la tradiţia legendarilor meșteșugari francezi.
"Ca şi companie, acordăm multă atenție în colaborarea cu architecții și interior designeri, deci ne bucurăm că, fiecare ediție a târgului BAU înseamnă mai mulți architecți" a declarat Dorota Karbowska-Zawadzka, Director de Marketing Barlinek. "Colaborarea cu designerii, chiar și în zona asta de design, a avut un succes impresionant dar şi un concept unic al standului. Astfel, putem dovedi partenerilor şi clienţiilor noștri că Barlinek este o companie cu potenţial şi se axează pe dezvoltare" a adăugat.
În acest an sunt peste 65 de mii de arhitecti.
Cele mai importante cifre:
• Peste 250 de mii de vizitatorii
• Peste 65 de mii de arhitecţii şi angajaţi ai birourilor de design
• 2120 de expozanți din 45 de țări.
Mai multe informaţii despre târg: www.bau-muenchen.com >>
---